How to break out of a content comfort zone: 5 tips to vet new content types | All content marketers have been there at some point — that place where we reinvent the content wheel out of convenience. We reuse the same email templates month after month, run the same survey year over year, and upload the same social media templates on a daily. 
Before you know it, we've gotten so comfortable with your content distribution processes that we run on autopilot, failing to see that our audiences are no longer interested. Worse yet, we might fail to see that our competitors are creating something more interesting. 
Truth is, getting into a content comfort zone, meaning repurposing the same content types over and over, bores audiences and prospective customers. In turn, it's bad for your brand and bad for business. 
Whether email marketing, blogging, social media, or another forum is your preference, the reality is all the same: You need to change up your content types to keep your business exciting. Of course, it's not always realistic to jump on the shiny new thing your competitors are doing. 
So, before shaking up your content strategy, it's important to make an informed decision about which content types will indeed fulfill your business needs. To that end, size up the following areas before going all-in on a new content format.
1. Draw industry comparisons
Look at your competitors and decipher which content formats receive the best engagement. If you're friendly enough with the competition, simply ask them what works best. Remember, however, that just because something works for a competitor that you should strive to make it better and strive to make content that's 100% unique to your company.
2. Survey your target audience
Don't assume what content your audience likes. To understand your audience, you have to ask them what resonates. Do this with a survey or social media poll, then analyze their response against what's doable for your existing skill sets and resources. 
3. Consider the time commitment
Calculate how much time a content type might take to create or recreate over time, and don't overextend your actual availability. The same content type done well is better than a new content type that's rushed and sloppy.
4. Be realistic about your skills and budget
Small businesses tend to have fewer in-house professionals and outsource projects such as illustration and website design more often. Evaluate your existing resources and whether it's feasible to invest in new ones.
Moreover, take inventory of what content types you've tried and retired before. Perhaps you can dust them off as a shiny new format.
5. Prioritize your business goals 
Step back and consider your overarching marketing and business goals — and how your content type will accelerate those. To do this, be sure to track the performance of your new content type and how audiences engage with it at each stage of the marketing funnel and customer journey. Adjust your approach accordingly.
Finally, look to the decision wheel below, courtesy for WebsiteSetup, for some beyond-basic content types to consider, all based on your marketing motive.
Please include attribution to websitesetup.org with this graphic.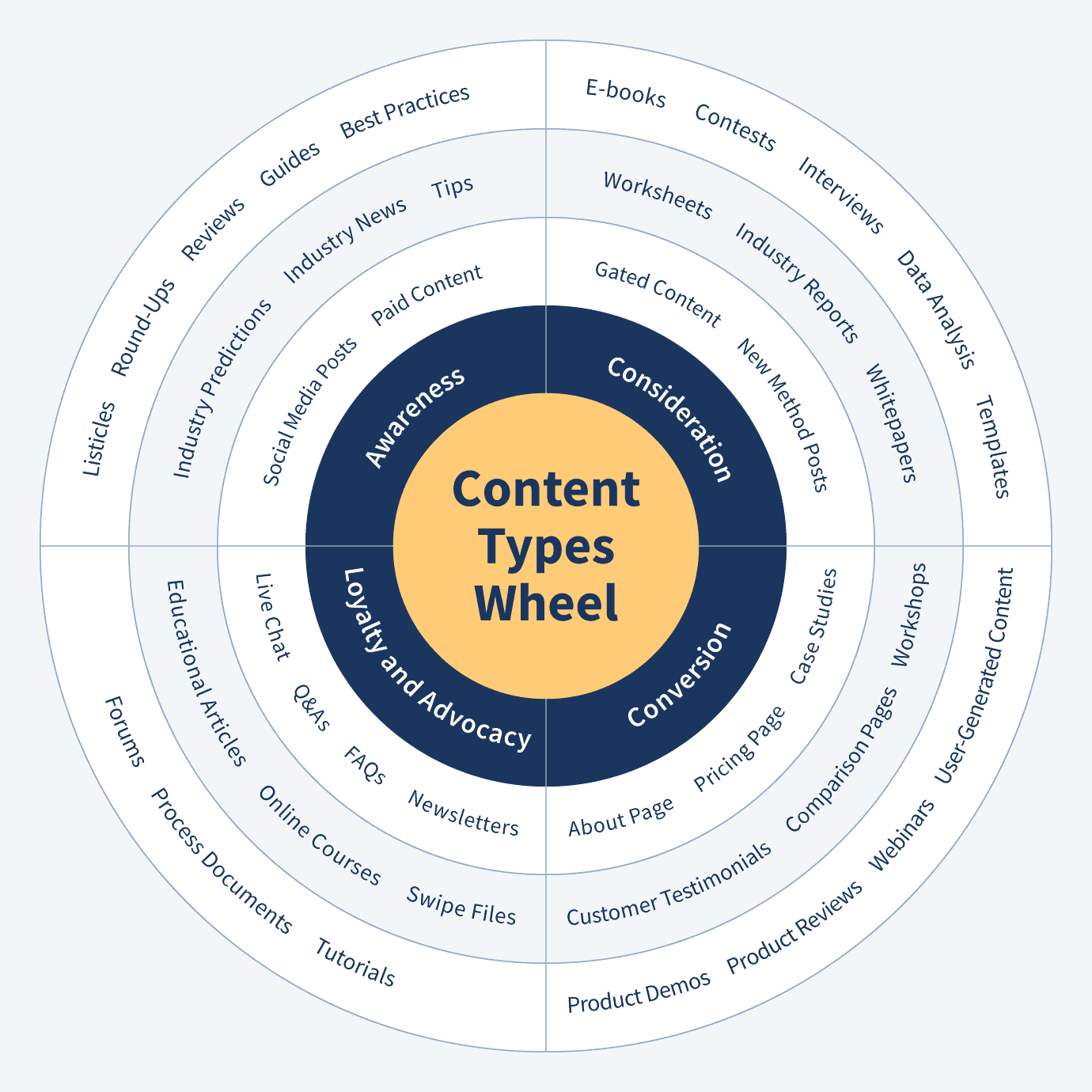 And if you're still unsure of which content type is right for you, also look to the flowchart here to ease your decision:
Please include attribution to websitesetup.org with this graphic.

(Visited 11 times, 1 visits today)