by Matt Eaton |
Despite a predicted 6% increase in adspend in 2015, Hong Kong advertisers remain cautious about the year ahead, particularly when it comes to digital media platforms, which are yet to provide clear return-on-investment data.
The latest survey on advertising spending projections by the Hong Kong Advertisers Association (HK2A) and Nielsen, show that despite the digital trend, TV and newspapers will remain dominant over the next 12 months, taking 21% and 14% share of advertising spend respectively.
Overall, offline advertising will account for 70% of Hong Kong's $12.2 billion ad market.
"Digital poses challenges to marketers as the industry needs better analytical and measurement tools for planning and determining ROI," said Raymond Ho, chairman of HK2As.
Another concern plaguing advertisers across the city is the economic outlook for the Hong Kong and global economy.
Wanda Gill (pictured), vice president of media and marketing effectiveness at Nielsen, said this will lead to more marketers exercising caution in the year ahead.
"While the respondents are optimistic about their companies performance, there is concern about the Hong Kong economy as well as global economy," she said.
Expectation about the Hong Kong economy decreased from 18% in 2014 to 7% this year. Local economic downturn also remains the top business concern among respondents. Positive sentiment towards the global economy declined from 35% in 2014 to 20% in 2015.
Gill described the shift to digital as "gradual", adding that 84% of marketers will increase their digital marketing budget this year.
Other major trends to continue in the year ahead are content marketing for websites, mobile, social media and SEO, along with strong growth in mobile video, e-Commerce, social CRM and paid social.
Nielsen data shows that social media will continue to be the third largest advertising platform in 2015, taking 8% of advertising spend ahead of magazines (7%), display (7%) and mobile (6%).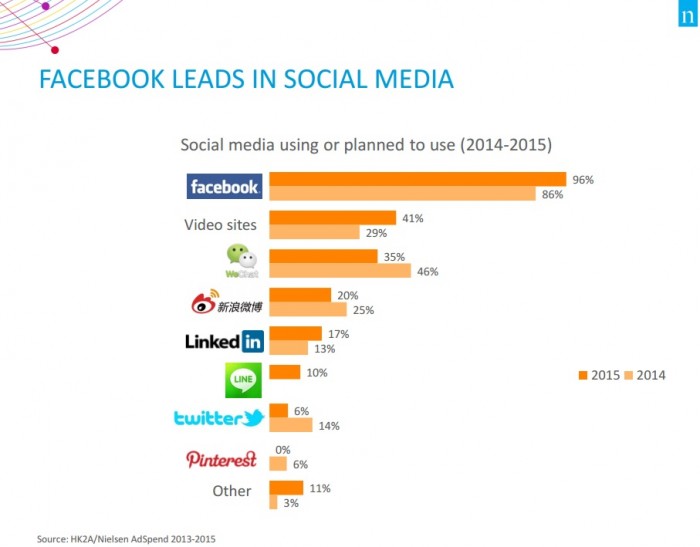 Pauline Chu, managing director of Carat Hong Kong, said she was not surprised about the gradual shift to digital, saying Hong Kong advertisers often play is safe, despite consumers spending the bulk of their time on mobile and digital platforms.
"In general, advertisers like to take a wait and see approach," she said.
Indeed technology driven platforms which have gained momentum in more mature markets around the world are still very much in a nascent phase in Hong Kong.
Nielsen's data shows programmatic buying and real-time bidding platforms will take a 3% share of digital spending, despite their promise of a more targeted approach.