shared from AppShopper
Mobile Application development is a dream world of every newbie. The blockbuster stories of the names like Angry Birds and Instagram had provided a sound base for these hopes and opportunities. To be in the rack of successful mobile application developers; a flood of business as well as individual developers is betting their luck and skills in the game of mobile application development.
This post of ours is not about discouraging you from your key goals of mobile application development; we are just giving you a wake up call to make you aware about behind the curtain stories of mobile app development. It is absolutely true that people are even finding hard to count the BIG amount of revenue generated from their apps but there are much more percentage of people who are even finding hard to get back the input cost from the revenue.
It is hard to believe this fact but it is utterly true that 59% of the application are not generating the enough revenue to pay back even the development cost of those applications. After the deep research to find out the reason behind the failure of these mobile applications; the web monks came into the decision algorithm that
"Developer who spends on the applications = Developer who earns from the applications"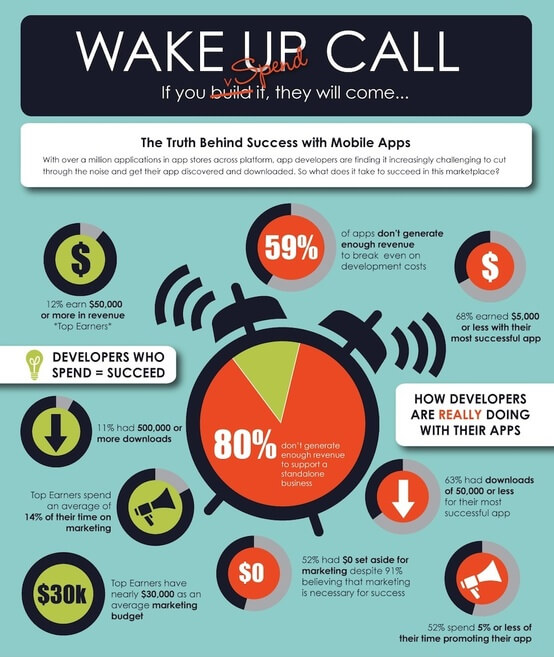 You may be thinking that the experts are only asking you to spend the bundles of bucks on your application development but from the word 'Spending'; they actually cover a wider horizon. From the term 'Spending' they actually refers the spending of three fundamentals that is Time, Marketing Ideas and of course Money.
Going by the figures; the top earners in the field of mobile application development spend 14% of their time on marketing and promotion of their application. These top earners had an average marketing budget of $30,000 for the promotion of their mobile apps.
Conclusion: it is true that the way to success with mobile application development is not an easy ride but the destination of success is surely a way much brighter than your expectations. If you are sure about your decision to choose this track then make sure too that you are shaking hands with the best partners (mobile application developers).
"Developing a mobile application may be the final step of the mobile application development process BUT it is definitely the first step to earn success from mobile applications."