by
Keri Jaehnig | shared from IdeaGirlMedia.com
LinkedIn is one of the most business-friendly social sites – focusing on brand networking as its primary goal. It is easy for personal brands to enter into the site and begin sharing their abilities with the audience…
So what are best practices on LinkedIn for great word of mouth?
While opening a LinkedIn account is a no-brainer, applying the right techniques to the right areas for you to generate ideal word of mouth marketing can be a bit tricky as your new associates begin sharing you with their own networks.
How to Optimize Your Social Networking Experience with LinkedIn
1. Target your URL
The most basic thing that you should do is to target your LinkedIn URL and make sure that it comes up on the Google search as you want it to (i.e. your personal brand name). This enables Google searches to bring your brand name up in the top 10 list. So, you have to include your brand name in the URL.
2. Complete your profile
Don't leave things blank, especially your profile picture… and be honest about everything you post. Honesty is the first step to developing reliability and worth on this social network, and will affect what is shared concerning you.
If you're looking to develop a profile that is worthy of being shared by associates, demonstrate yourself as an indispensable addition to their networks through your professionalism and your openness to share with others.
3. Get endorsed
Endorsement is one of the best additions to LinkedIn and perhaps the most effective at demonstrating word of mouth influence. This feature allows you to create a list of your abilities and allow others to endorse them. Don't be shy when asking for LinkedIn endorsements, just be sure that you only ask associates that you're familiar with to help promote your abilities.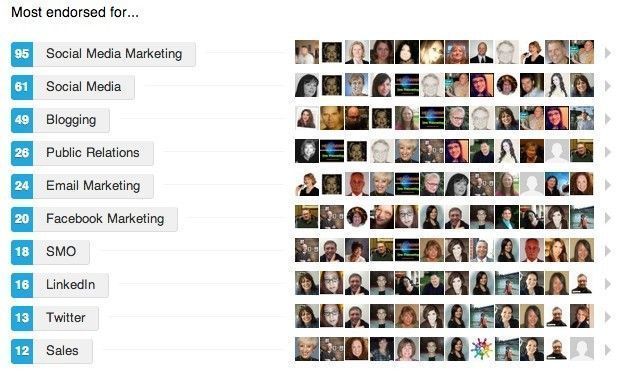 LinkedIn Endorsements Example
4. Join LinkedIn Groups
LinkedIn Groups is going to be your most beneficial tool for networking with others in your field. This will give you the opportunity to establish yourself as an expert and meet other potential contacts that can endorse your abilities. Just be sure that you discuss and share with the groups.
When asking a valuable question, (demonstrating your expertise) it is generally good practice to keep questions going longer than average so that others have more opportunity to interact with them.
Do not overwhelm them with links and sales pitches, or you may lose credibility and cost yourself some valuable endorsement opportunities. Also, don't just settle in one spot for too long. Explore different groups and keep the topics and opportunities fresh.
5. Interact with others
Interaction itself is going to be what really expands your notability. LinkedIn offers a few tools to get you started such as applications, LinkedIn app for mobile devices, LinkedIn Contacts, and @ mentions (tags).
LinkedIn Contacts brings together all your address books, emails, and calendars, and keeps them up to date in one place.  It helps you keep track of birthdays and job changes within your network so you can stay in touch with your personal network and celebrate important milestones.  Tagging within LinkedIn, (@ mentions) lets you personally interact on a daily and weekly basis.
* * *
Maria Elena Duron, is is CEO (chief engagement officer) of buzz2bucks.com – a word of mouth marketing firm.  She helps create conversation, connection, credibility, community and commerce around your brand.  Maria Duron is co-founder  and moderator of #brandchat – a weekly Twitter chat focused on every aspect of branding that is recognized by Mashable as one the 15 Essential Twitter Chats for Social Media Marketer.
{fcomment}